On Saturday morning we left for the Colca Canyon. The Colca Canyons are a well known tourist attraction, having natural hot springs.
On our drive to the Colca Canyon's our tour guide Miguel pointed out another type of bird called the "Huallata". These birds are considered romantic birds because they always fly in pairs. Also, when one of the birds dies the other one dies a short time after. Additionally, in the photo you can see the small pools of water all around, in the rainy season this whole area is underwater.
This is where we spent our night in the Colca Canyon's at the Colca Lodge.
The Lodge had its own hot springs. There was 4 pools of water there, one of which we could not use but all varied in degrees. The first pool we walked past was 80 degrees Celsius (176 F).
The second pool had a range of 35-37 C (95-98.6 F).
The third pool and the one we spend most of our time in had a range of 37-39 C (98.6-102.2 F)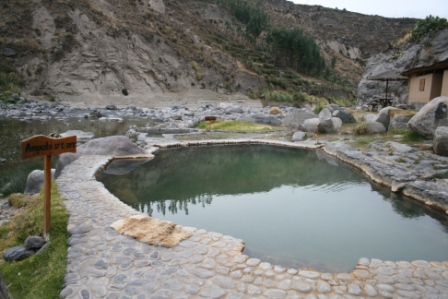 The fourth and final pool had a temperature range of 20-22 C (68-71.6 F). Only Miguel tried this pool, as the rest of us were thinking it would be a little cold. We all confirmed our thinking when we saw Miguel running back to the other pool.
Our guess is that most of the water that heats up some of the pools comes from the first pool that is at 80 degrees Celsius. There are channels (that can be seen in the photo below) that make the water flow from that pool to the other pools.

The next photos are of all of us enjoying the hot springs.
mg_3584_dsc01025.JPG
After the hot springs we all showered up and just sat outside. It actually got a little cold as the night progressed. Here are some photos of all of us outside our rooms.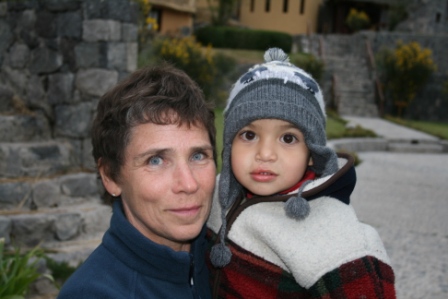 The next day we woke up at 6:30 to see the Condors (a type of bird for those of you who don't know).
After looking and looking for the Condors we decided to get back in our vehicle and head to another destination. We did see three Condors but they were from a far distance. However, I (Eric) did a quick search on the internet to find the below photo of what the Condors would have looked like up close for your enjoyment.
After we left the site of the Condors, we stopped by a small village where we walked around a little bit. A man in the town was offering to have an Eagle sit on our heads for a small fee. Everyone was a little hesitant at first but April was the first brave soul, after that everyone followed.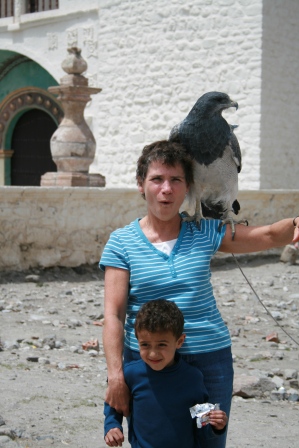 When it came time for April to walk up to the Llama she was a little scared of it. Ok, she really wasn't scared of it but from this photo it sure does look like it.
We then all jumped into the van again and headed to the town of Chivay. As you can tell from the next two photos the boys (Matteo, and Rodrigo) have warmed up to us and like getting their pictures taken. They especially like to see the digital photos right after we take them.
Below is a photo of all of us (Eric, Rodrigo, Matteo, April, Miguel, Madeleine, Francesca, Jim) and down front was some random girl from the village of Chivay with a five day old lamb
The weekend was great. It was even better to be able to spend it with Miguel's entire family.
However, when we returned back to Arequipa on Sunday evening April and Jim were not feeling so well. We were all going to have dinner with Miguel's sister Nina but it only ended up being Madeleine and Eric. Jim and April spent most of their night guarding the porcelain.
Miguel made a late night run to the pharmacy for them and brought over some more Peruvian miracle drugs.
As for today (Monday), Jim and April are a little better. They have spent most of the day recovering/resting.